This week has been a long one...mainly because grad school started back up for summer semester, so I am getting back in the grind and have no free time to speak of during the week (and some of the weekend). But these summer courses seem like they might be a bit more laid back than my Spring semester, so that's promising!
Linking up with many fabulous ladies today for the customary list of Friday Favorites!

1. Pictures of Ladybug
Of course, my phone and Facebook feed has been blown up with pictures of this cutie since she was born...just had to share this one because it's too adorable (look at that little smirk!)
2. Long Hair Don't Care
Confession time...I only get my hair cut about once every 6 months. It's so long and doesn't ever get colored so I tend to just put it off, honestly...until it's so bad I have to immediately make an appointment. It's getting to that point and I've been looking for some good hair-inspiration pics to take into my stylist and had these two saved on my computer from awhile ago...thinking something along these lines...
3. Songs of the Week
Love both of these and have been listening to them on repeat...I will never get sick of laid back / beachy / reggae style songs and if this is a preview of what Magic! has to come, I can't wait to hear their new CD!
This perfect summer outfit I stumbled upon...found Amanda Holstein on Instagram and had to follow her blog asap - check it out here!! Immediately went to F21 online and put the floral cami in my shopping cart :)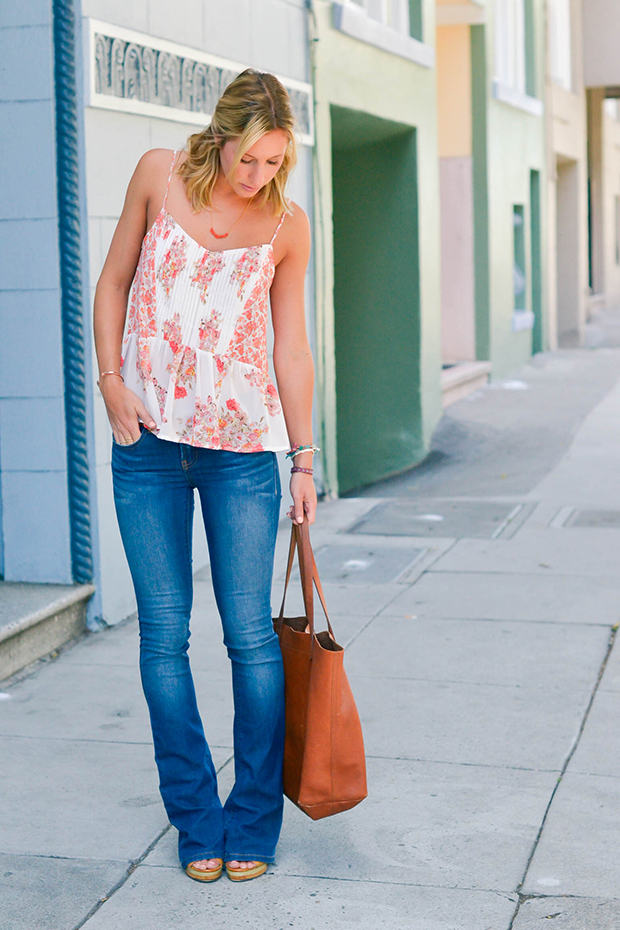 Also found this photo on Leah Jenner's IG and fell in love with her dress (damn you Instagram!) ...but, I should have known better.
Unfortunately, $200 for a maxi dress won't be happening...
5. Family!
My parents are coming up this weekend to spend time with Aaron and I...and they are bringing my Grandma, Uncle Pat and Aunt Jill - who are visiting from Asheville, NC (Gma) and Boise, Idaho (P & J). I haven't seen them in such a long time and I am so excited for their visit! It will be the first time any extended family has come to see our new house! :)
Join in on the Friday Link Ups here!!